Welcome to Japanese Exchange and Teaching Alumni Association (JETAA) Canberra.
We are a not for profit self-supporting alumni association which was created in 1989 to strengthen and maintain the bonds of friendship developed between JET Programme participants. The purpose of JETAA is to promote through its activities a broader and deeper understanding between Japan and the countries participating on the JET Programme.
---
Executive Committee Members
President: Rafael Villadiego (Nagasaki 2010 – 2013 ALT)
Vice President: Jordan Rocke (Ehime 2018 – 2023)
Treasurer: Nicole Flynn (Oita 2011 – 2014 CIR)
Social Media Coordinator: Sheridan Piltz (Kumamoto 2016 – 2019 ALT)
Social Events Coordinator: Caitlin Collins (Sendai 2012 – 2016 ALT)
Webmaster: Robert Blackburn (Gunma 2012 – 2015 ALT)
General Committee Members
Charlie Paulk (Oita 2005 – 2010 CIR)
Jessica Evers (Oita 2014 – 2016 ALT)
Carol Anderson (Niigata 2009 – 2014 ALT)
A big thanks to our outgoing Executive Committee members:
former VP Carol Anderson
former socials coordinator Samantha Annetts
and a big welcome/welcome back and よろしく to new committee members:
incoming VP Jordan Rocke
(re)incoming socials coordinator Sheridan Piltz!

Watch for all of our friendly faces at upcoming events.
Stay up to date via our social pages and website.
We look forward to another year of providing support to our alumni and hosting lots of fun (in person!) events.
Announcement of Annual AGM
Details are now out for our 2023 Annual General Meeting. Now is your chance to get in on all the fun JETAA CBR has to offer by joining up to our fabulous Executive Committee! ALL roles are open (we're especially looking for social media and VP roles):
The 2023 AGM will take place on Thursday 21 September via Zoom (link to be shared closer to the date)
Nominations close Thursday 14 September
Positions open:
President
Vice President
Treasurer
Social Media Coordinator
Webmaster
Social Events Coordinator
We're also taking nominations for our General Committee if you're after something more low-key.
Nominate yourself or another for a position here – nomination instructions have also been dispatched to registered members via email so check your inboxes (and spam folders!)
If you would like a detailed description of a particular position or have any questions about any of the positions above please contact president@jetaacanberra.org
JETAA Canberra Annual Trivia Night 2023 – Registration Now Open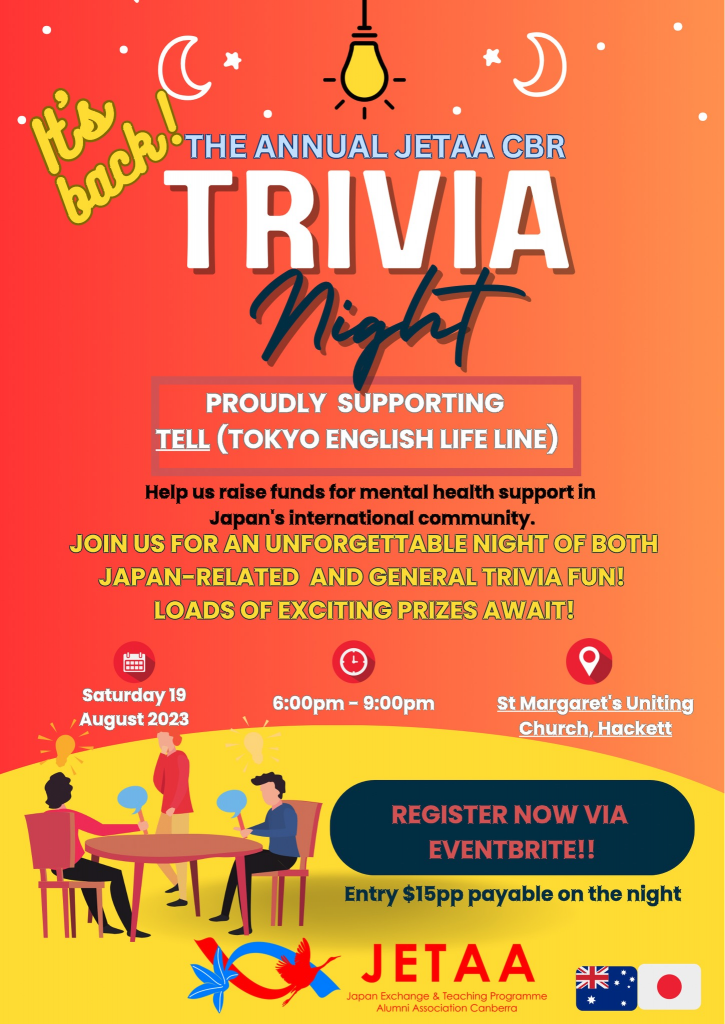 LOOK WHO'S BACK!
We're SO excited to bring back our beloved TRIVIA NIGHT after so many cancelled years – rest assured, we're back with a BANG in 2023!
This year we are fundraising for TELL – TOKYO ENGLISH LIFE LINE: a non-profit organisation that supports mental health in Japan's international community. If you've lived in Japan before you'll know how vital important their services are and what a difference they make.
THE DETAILS – MARK YOUR CALENDARS AND REGISTER
Date: SAT 19 AUG 2023
Time: 6PM – 9PM
Location: ST MARGARET'S UNITING CHURCH, HACKETT
Cost: $15pp payable on the night plus raffles and fundraising games so bring along your spare change for a good cause! (*registrations essential though – details to follow)
Register via Eventbrite here now!
Time to dust off the thesaurus, crack open the history textbook and scrub up on your odd facts! Both Japan and general questions – we'll make it worth your while with all the prizes!
With thanks to generous donations from:
@ana.japan
@w.chaco
@rakudining
@kuramanuka
Oshaberikai at the pub
Oshaberikai in person is back!
おしゃべり会が復活!
Many of our members and friends have been chatting it up on Zoom throughout the pandemic, but we have missed talking in person.
直接で話しましょう!
We will be meeting at the Badger & Co pub on the ANU campus.
集合場所は、ANU大学にあるBadger & Co パブです。
This is a collaboratively-hosted event between JETAA Canberra and the ANU Japan Club. ANU and other students are especially welcome. Come practice your Japanese at the pub before the exam period!
ANU Japan ClubとJETAA Canberraは共同お行いイベントです。ANUに限りず、学校を問わず大学生も大歓迎!日本語試験前、日本語の聞き取りをパブで予習しましょう。
It's the responsible thing to do.
それは義務履行能力のあるでしょう。
Please note that this event may be cancelled or postponed depending on the pandemic situation. Please do not attend if you are experiencing any respiratory symptoms. In the interest of COVID-19 safety, we will be sitting outside.
新型コロナウィルスの状況によってはキャンセルする可能性があります。風邪の症状等がある方は、次回お越しください。新型コロナウイルス対策のため、外に座ります。
皆さん、よろしくお願いいたします!
Date: Wednesday June 7 2023
Time: 6pm – 8pm
Location: Badger & Co. (ANU)
Register your attendance on the Facebook Event page
2023 Shinnenkai – Gyoza & Karaoke Party!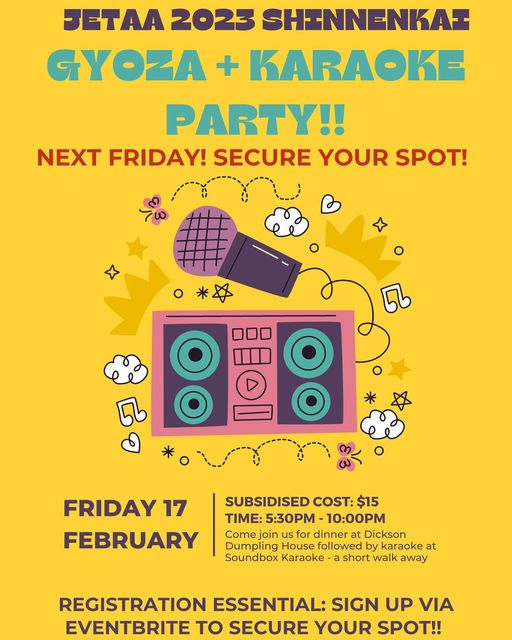 Gyoza and Karaoke? Name a better combo!
Come join us to kick off 2023 with a bang at the JETAA Shinnenkai in Dickson on 17 Feb – registrations essential so click below to secure your spot!
https://www.facebook.com/events/721356856062521
2022 Nara Candle Festival POSTPONED TO DECEMBER 3
Unfortunately over the weekend Events ACT announced their decision to postpone the 2022 Nara Candle Festival until December 3rd. The good news is that it only delays our plans, doesn't cancel them like the last three years!
We'd like to say a big thank you to all of you who did sign up, we hope we can count on you to put your hands up again on December 3rd – at least the volunteer dinner will be nice, warm, and sunny weather!
Stay tuned for another call out closer to the date, and thanks again for all the support.
2022 Nara Candle Festival
After a long three year hiatus, the Canberra Nara Candle Festival is BACK and we couldn't be more excited for the ACT's biggest Japan festival!
JETAA Canberra will be running a booth (the best one, if you ask us) selling gyoza and beer. If you're in town why not stop by and say hi.
FESTIVAL DATE: Saturday 29 October 2022 4-9pm
LOCATION: Canberra Nara Peace Park
We're also looking for volunteers. If the idea of chilling with us for a few hours flipping gyoza, serving fun Japanese drinks and showing off your best "Irrashaimaseeee!" sounds like fun you can sign up to help out on the day here EDIT: link removed after sign-up period ended. As usual to thank you for your time we'll be holding a volunteer dinner a few days before the festival.
There's not much time so get in quick and we'll touch base with you on further details.
Announcing the 2022-2023 Executive Committee
Please find below details of our 2022-2023 Executive and General Committees as elected at our AGM held on Sunday 18 September:
Executive Committee
President – Rafael Villadiego (ALT Nagasaki 2010-2013)
president@jetaacanberra.org
Vice-President – Carol Anderson (ALT Niigata 2009-2014)
vice.president@jetaacanberra.org
Treasurer – Nicole Flynn (CIR Oita 2011-2014)
treasurer@jetaacanberra.org
Social Media Coordinator – Samantha Annetts (ALT Hokkaido 2008-2011)
socialmedia.jetaacbr@gmail.com
Social Events Coordinator – Caitlin Collins (ALT 2012-2016)
social.coordinator@jetaacanberra.org
Webmaster – Robert Blackburn (ALT Gunma 2012-2015)
webmaster@jetaacanberra.org
General Committee
Jessica Evers (ALT Oita 2014-2016)
Charlie Paulk (ALT Oita 2005-2010)
2022 JETAA Canberra Annual General Meeting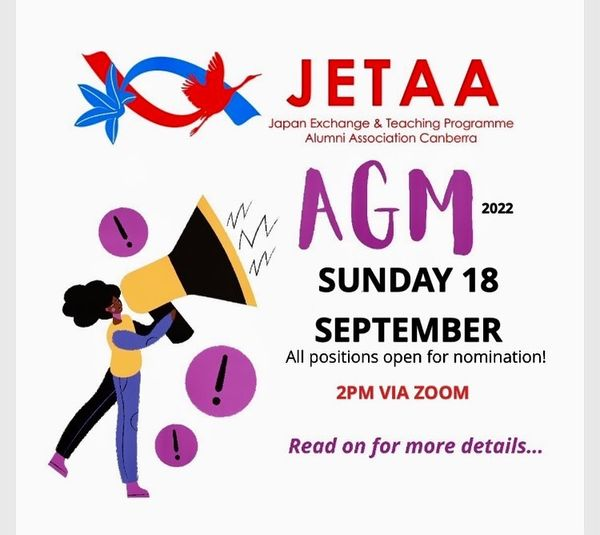 Announcing the 2022 JETAA Canberra AGM will be held via Zoom on Sunday 18 September.
All positions are now open for nomination. Read on for details on how to attend and nominate!
2022 Chopsticks Making Workshop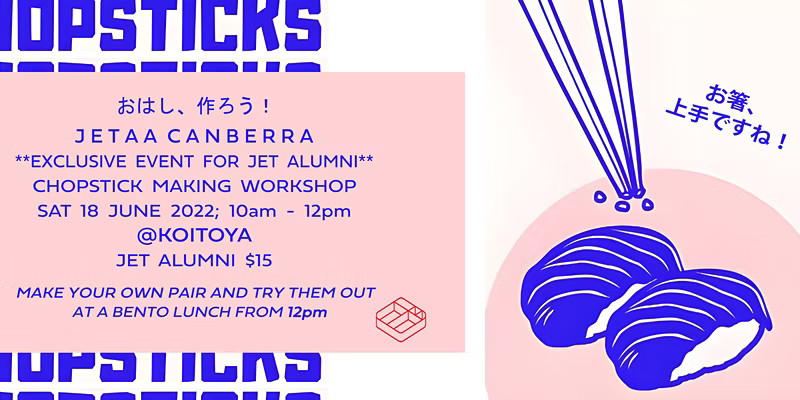 Our incredibly popular chopstick making event returns in 2022! Join us from 10am to make your own chopsticks followed by a free Bento lunch
Learn about the culture of chopsticks and how to make them. Plus you'll be able to go home with your very own hand-made pair of chopsticks!
At the well-established Koitoya in Oaks Estate.
Workshop starts at 10am and will be followed by a free Bento lunch from 12pm where you can try out your new chopsticks!
Cost
JET Alumni Members: $15
Non-JET Alumni Members: $20*
*Priority registration for JET Alumni Members available from 1 June. Registration for Non-JET Alumni Members available from 11 June.
Lunch + dietaries
Spots are limited! 12 participants maximum as Koitoya Studio is small and cozy – a bespoke experience!
Please RSVP on Eventbrite. Please pay via bank transfer to secure your spot. Be sure to include any dietary requirements for your Bento lunch and we will do our best to accommodate.
*JET Alumni family are also welcome
2022 Alumni* Shinnenkai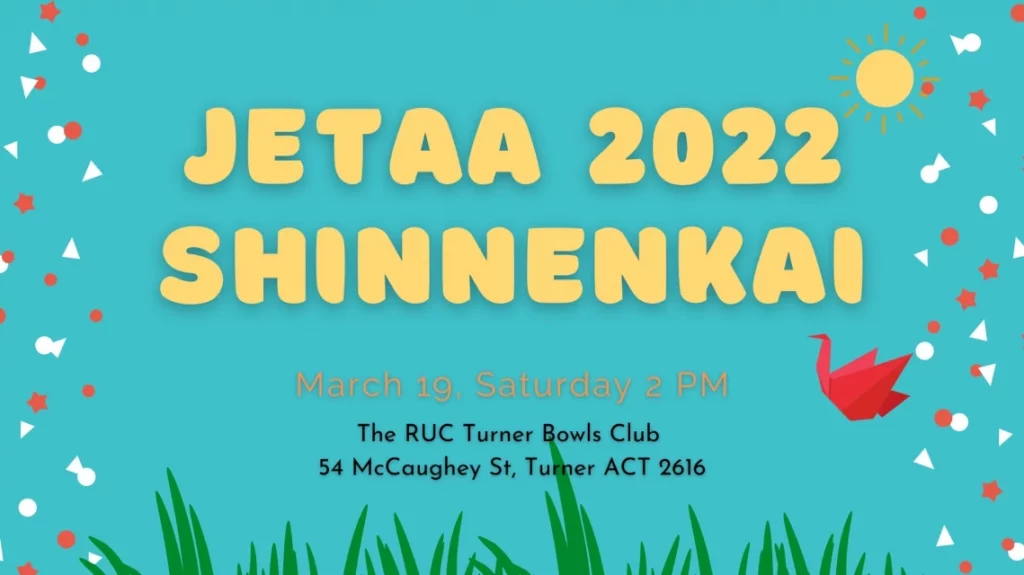 2:00pm Saturday 19 March 2022 @ The RUC Turner Bowls Club
(54 McCaughey St, Turner ACT 2616)
Hey everyone!
It's another happy new year, which means it's time for our (belated!) annual shinnenkai, or New Year's Party!
Come down to the RUC Turner to play a few rounds of lawn bowls, relax and celebrate together outside!
Who: JETAA Alumni and their families!
* If you are a non-JET alumni or a non-alumni member, please get in touch for our wait-list.
Announcing the 2021-2022 Executive Committee
Please find below details of our 2021-2022 Executive and General Committee as elected at our AGM held on Saturday 18 September:
Executive Committee
General Committee
Nicole Willcox (CIR Gunma 2003-2006)
Bonnie Suehiro (CIR Shizuoka 2008-2010)
Sheridan Piltz (ALT Kumamoto 2016-2019)
Jessica Evers (ALT Oita 2014-2016)
Thank you for your continued support.
JETAA CANBERRA EXECUTIVE COMMITTEE
---
JETAA Canberra maintains working relationships with many local Japanese cultural, government and social groups, such as:
We provide particular support to the following:
Prospective JETs
If you're thinking of applying, you have come to the right place. We can provide you with all the information you need about the Programme, its purpose and function, as well as basic application advice. For more information about the programme, click here
New JETs
Congratulations on your selection for the program, we aim to prepare you with everything you need to know before departure to Japan
Returning and Former JETs
Whether you have recently returned from the JET Programme, or you took part in it many years ago, we are here to help you maintain your connection to Japan. Whether it is through Japanese events, language exchange or just someone to share your amazing stories with.
People with an interest or connection to Japan.
Never been on the JET Programme? Not a problem, anyone with an interest or connection with Japan is welcome to join.
JETAA Canberra is also a financial sponsor of the following:
Tohoku Tsunami Youth Victims Program